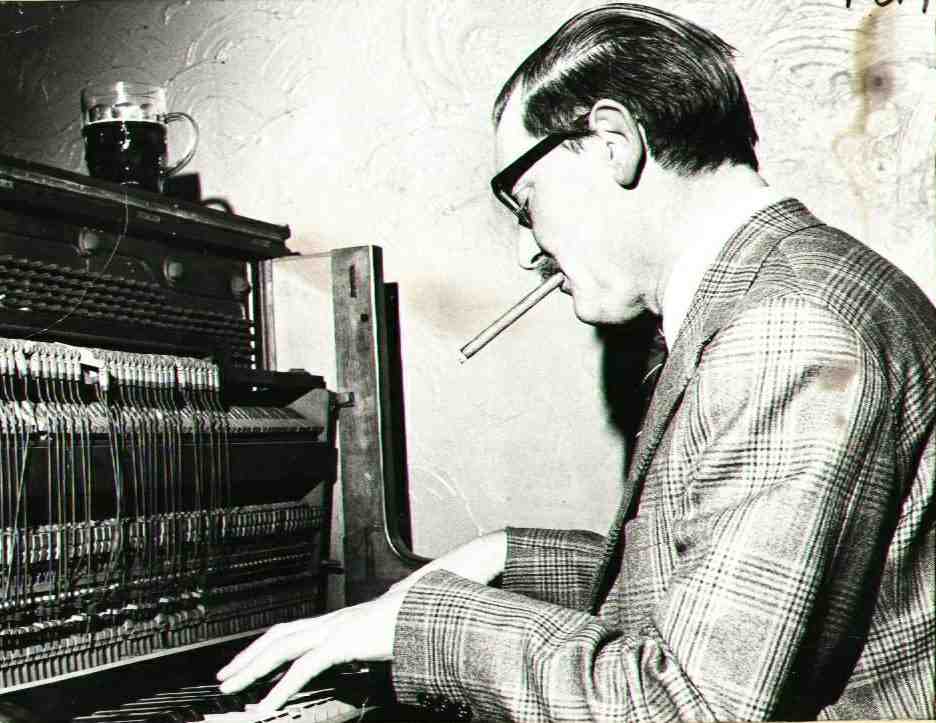 Tom Renton Gordon (1928 - 2002)
Tommy Gordon was born in South Shields (South Tyneside, England) in 1928. His father was a Sergeant in the Police Force and Tom's early years were spent in a Police House attached to the Police Station. Tommy went to the South Shields High School for Boys. On leaving School he attended Teacher's Training College in Cheltenham. He spent two years there and as soon as he was qualified he took up teaching in South Shields. There was a great shortage of Teachers after the war and Tommy was teaching in 1947 when he was only nineteen. He taught at Horsley Hill School (and also, after he had left the Army Education Corps, at Barnes Road Junior School.)
His mother had been a music teacher at the Girl's High School and she had taught him to play the Piano. He became interested in Jazz. He was a lifelong exponent of Jelly Roll Morton but also played Ragtime, Blues and Boogie-Woogie. His first Rag is dated 1948. The early compositions are very clearly first attempts but with Frivolity (1951) Cherry Pie (1951) Vieux Carré (1952) and Beauty Queen (1953) he had developed his own style. The Vieux Carré, is named after Peter Deuchar's band, the Vieux Carré Jazz Band. They first played on their new Jazz Club in Melbourne Street, Newcastle. Along with Fred Rowe, (Cornet) Tommy was one of the members of the Rivermouth Jazz Band which was based in South Shields and performed throughout the North East. Other members of the band were Brian Cooke, (drums) and Alan Fawkes (clarinet/saxophone) Band members often went to London for the weekend and it is there that Tommy would have seen Mick Mulligan's Band and met George Melly. Tommy was helped to develop his Jazz style by the landlord of the Cross Keys in London's East End who had played with the Original Dixieland Jazz Band on their European Tour in 1919. The Rivermouth Band started in 1950 and stayed together until about 1957/58.
Tommy also played at other pubs and clubs in the area and is known to have played regularly on Saturday Nights in the mid fifties at the Fighting Cocks Public House in Durham City with Gordon 'Doc' Forster (clarinet). In 1957 Tommy wrote Goldilocks one of his most popular Rags - it was dedicated to an eponymous girl friend, Marion Chapman who had been famous as a baby as having been born prematurely and entering the record books as the smallest baby to survive. He composed Christine, a Waltz, in the same year dedicated to Christine Gibson, another friend.
Tommy had suffered rheumatic fever as a child and was excused National service. In 1959 he joined the Army Education Corps and taught for three years in the Army Children School in Dhekelia, Cyprus. In Cyprus he met his wife to be, Marilyn Graham who taught in the Secondary School and they married in 1961. Tommy and Marilyn have three daughters, Fiona( 1962 ) and twins, Cindy and Mandy ( 1963 ) On leaving Cyprus Tommy and Marilyn set up home in South Shields where Tommy took a teaching job at Brinkburn School. During this time Tom joined the Durham Light Infantry Cadet Battalion and became a Cadet Captain for a number of years form 1963 to the early 1980s. Tommy was also a Freemason.
Tommy played piano (sing along) in Pubs and working Men Clubs in the South Shields area but kept away from the Jazz scene in the North East. His bombastic personality could easily upset the more sensitive characters. Tommy was, however, happy to pass on his own extensive knowledge of Jazz and Ragtime. He had, for the time, a good record collection (Including many 78s) and he had also obtained copies of many Rags, mainly Joplin, Lamb and Scott from contacts in the States. In the mid sixties, Tommy took on John Orton (then aged 16) as a pupil to teach him Ragtime, Blues, Boogie Woogie and Morton piano style. He also met Dave Kerr from Jesmond who had developed what would become a lifelong interest in Ragtime and Jazz and who also took up the piano with help from Tommy. It may have been this resurgence of interest in the genre that prompted Tommy to start composing Rags again in 1966. The first two Rags of what was to be a fruitful period of writing were Mandy-Lou's Cakewalk (1966) and Cindy-Belle (Slow Drag) (1967) named after his twin daughters. Tommy continued writing Rags during the seventies and eighties, including the Four Seasons Suite, Spring Lightning, Lazy Summer, Autumn Thunder and Winter Dream. His last Rag was Pretty Thing (1987) although his last composition was Magenta (Tango) (1992) named after Magenta Kent, a singer Tommy had known many years before.
Tommy would occasionally sit in with bands during the seventies but in 1985 he joined the Tyne Valley Stompers during the celebrations in the North East to commemorate the 100th birthday of Jelly Roll Morton. He also gave a number of solo concerts at Caedmon Hall for the Gateshead Jazz Club. Tommy would reminisce, tell corny jokes and play Ragtime, Blues, Boogie-Woogie and Morton. He was a fine accompanist and partnered Sadie Hashman a local blues singer.
Tom suffered with diabetes but this did not prevent him from indulging a weakness for home brewed beer and Scotch Whiskey. His diabetes caused him serious problems in his later years. He had a leg amputated in 1990. He still continued playing but in his late sixties his hands started giving him trouble and he had to give up the piano. He had a stroke in 1998, suffered a second amputation and finally died at home on 16th February 2002.
An appreciation of Tom's Music
As a pianist Tommy Gordon was best known for his interpretations of Jelly Roll Morton's pieces. He was also an inspired blues and boogie player. He knew a lot about Ragtime but it was not his preferred option when it came to performing. The constraints of the strict timing and the limited opportunities for improvisation inhibited his natural musicality and inventiveness. He also had small hands, spanning an octave with difficulty, and did not find the physical challenges of Ragtime, in particular the left hand, easy. It is surprising therefore that he will probably be remembered for his Ragtime compositions. He composed Rags throughout his adult life and left a considerable volume of works on his death .
He wrote 38 Rags although it is fair to say that these include some early Rags of no great merit and some Rags written in the seventies, Tom's most productive period, which do not bear comparison with his better efforts. A subjective analysis of his output would count twenty-one Rags as being of the best quality.
Tommy's compositions can be placed into two categories. His early Rags composed between 1951 and 1957 - the best being Cherry Pie, Frivolity, High Life, Vieux Carre, Beauty Queen, and Goldilocks. There was then a gap of some ten years before Tommy started composing again in 1966. Mandy Lou's cakewalk was followed by Cindy-Belle Slow Drag named after Tommy's twin daughters. Rags featured on this tape from that period are The Diamond Lily, Alakeefic, Aeoleus, Lazy Summer, Silver Flash, Chiff-Chaff and Tom's last Rag Pretty Thing.
Tom's style is quite distinctive. He is clearly influenced by Joseph Lamb, James Scott and Souza. He preferred these composers to Scott Joplin. He believed that Ragtime should be performed in the player's own style and that it was not necessary to stick too closely to the notes. He disliked the classic approach, for example, of Joshua Rifkin. And yet Tom's Rags are so tightly scored that it is difficult to play them with any great variation from the notes he set down on paper. Four things stand out in Tom's compositional style - first his love of breaks, second his second themes which dance along very much in the James Scott fashion, third his bridges which demonstrate his skill at composition and his ability to move from one key to the next, fourth, his last themes, which, when he includes them, are all loud stompers.